San Jose
From BroaDWcast
Jump to navigation
Jump to search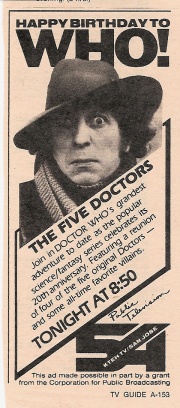 13 April 1981: Doctor Who commences its run on KTEH, five days a week; KTEH is the third station in the Bay Area to screen the series.
1982: Omnibus versions commenced on Saturday nights while episodes continue to run daily.
1 December 1983: The Five Doctors airs at 8.50pm during a pledge night. The fan club "Legion of Rassilon" manned the phones.
16 June 1984: The package of the 14 available full color Jon Pertwee stories commences with Inferno, screening as Omnibus "movies" at 11.15pm on Saturdays. The arrival of the third Doctor on channel 54 was promoted on the cover of the monthly Preview 54 magazine.
While the Pertwee Omnibuses are screening on Saturdays, Tom Baker episodes continue to air weeknights at 7.30pm.
KTEH generally airs two 'movie' compilations per week.
1985: The repackaged color / black and white Jon Pertwee stories air around this time, and repeated in 1991 and 1992.
16 September 1985: The Tom Baker stories are recycled again, weekdays at 7.30pm. Omnibus editions also screen Saturday evening (Nightmare of Eden screened 14 September 1985.)
November 1988: The Sylvester McCoy stories go to air.
June 1991: While he was in the country to attend the Founders's Society Event, Peter Davison recorded two interviews for KTEH: Evening with Peter Davison, and an appearance on the talk-show Malone.
1991-2001: The repackaged 24 Jon Pertwee stories continued to be aired a few times.
26 August 1992: The recently recovered The Tomb of the Cybermen screens.
27-28 February 2000: KTEH made its own full reconstruction of the 4-part version of Resurrection of the Daleks, Part 2 of which aired during the Evening with Peter Davison special -- the full story of this resurrection project HERE.
The "new" 4-parter aired in full on 2 July 2000.
18 October 2000: Sylvester McCoy and Carole Ann Ford host a special evening of selected repeats dubbed "The Ends of Time". This was repeated 3 December 2000.
10 June 2001: KTEH celebrates 20 Years since it began screening Doctor Who with a special evening of "secret" episodes - one from each Doctor (the titles of which were not published in advance) - and editions from its "An Interview with" series.
January 2003: KTEH's almost uninterrupted run of Doctor Who came to an end in January of this year.
17 and 22 August 2003: The Airzone Solution and Auton, two of the BBV Productions spin-off videos, air back to back on both dates.
April 2007: KTEH became the first PBS station to acquire the New Series.

A more detailed account of KTEH's broadcast history of Doctor Who can be found HERE
KTEH specials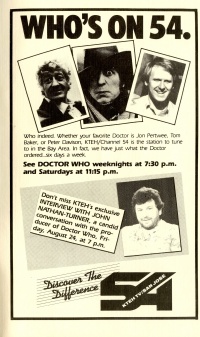 KTEH made a number of Doctor Who specials, which have their own pages:
Media
| | |
| --- | --- |
| 1983 continuity | ID (1985?) |
| | |
| --- | --- |
| Patrick Trougton bloopers | pledge break, August 1985 |