KCET
From BroaDWcast
Jump to navigation
Jump to search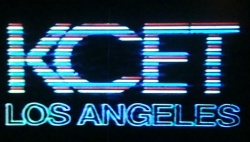 KCET
Los Angeles
Network: PBS
Channel(s): 28
First airing: 1975
Last airing: 1993

---

== AIRDATES ==
KCET was also available on Channel 8 in Palm Springs
1 July 1975: KCET is the first solo mainland US PBS station to screen Doctor Who (the actual first PBS station was KGTF on Guam, where the series debuted in November 1972; the first mainland PBS screenings were on the networked group of Iowa Public Television stations in 1974); it begins screening Tuesdays at 7.30pm with the Jon Pertwee stories.
Los Angeles Times TV listings
6 June 1976: The series moves to Sunday nights.
9 October 1976: The series moves to Saturday evenings.
29 January 1977: The Saturday night airings end.
10 September 1977: A surprise run of Saturday afternoon airings begins.
15 October 1977: An airing watched by no one as it aired opposite game 4 of the Dodgers/Yankees World Series.
19 November 1977: The Daemons airs as a compilation with one intermission. A recording of this broadcast is used to colorize telerecordings for eventual VHS and DVD releases. Does this run feature the first American compilation broadcasts?
3 December 1983: After a six year break, KCET picks up Doctor Who again with The Five Doctors, but passes on the nationwide broadcast.
7 January 1984: The Tom Baker stories commence their run, and air for several years on a repeat cycle.
1984: The reissued 14 colour Jon Pertwee stories air.
9 March 1985: The Talons of Weng-Chiang airs for the second and last time. It doesn't air during Tom Baker's three other runs.
December 1985: The full package of the 24 reissued Jon Pertwee stories commences.
1986-1987: Omnibus editions air, Saturdays, usually 1.00 to 2.30pm.
13 June 1987: The Peter Davison stories begin airing.
9 October 1987: Sylvester McCoy and Janet Fielding visit with the Doctor Who Tour (parked at Plummer Park, on Santa Monica Boulevard).
31 October 1987: The Colin Baker stories commence. During 1987, the series screened Saturdays, at 1.00pm.
28 November 1987: The broadcast of Revelation of the Daleks was interrupted mid-way due to a transmission fault. The story was "repeated" the following Friday, around 11.30pm.
January 1988: The 24 repackaged Jon Pertwee stories aired, with a repeat in 1991.
17 March 1990: The first run of Sylvester McCoy stories airs.
1990: Compilation editions air Saturday mornings, sometimes from 10.50am.
1992: During 1992, the series airs in omnibus editions from 9.00am to 10.30am on Saturday mornings.

There have been eyewitness accounts that this run included omnibus editions of Jon Pertwee stories - including The Daemons in colour, several months before the serial had been officially restored and colourised by the BBC. However, our research into the KCET screenings produced nothing that confirmed any such screenings took place...

1993: During 1993, the series airs in 90 minute omnibus editions from 8.00am to 9.30am on Saturday mornings, although in November and December, the timeslot is reduced to only one hour.
18 December 1993: KCET drops Doctor Who.
Media


Tom Baker pledge break commercial






July 1989: KCET explains why it didn't air
The Talons of Weng-Chiang
(it should have aired March 4)