Iowa Public Television
From BroaDWcast
Jump to navigation
Jump to search
Variety,

16 August

1978
IPBN was one of the first stations to purchase the Tom Baker stories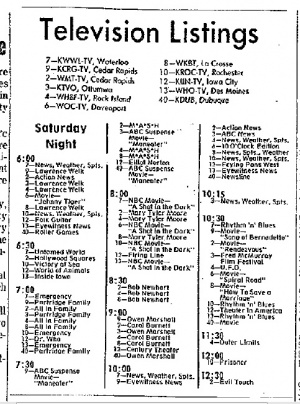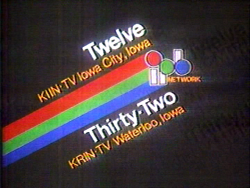 6 April 1974: The Jon Pertwee stories begin airing, Saturdays at 7:00pm on the Iowa Educational Broadcasting Network. After 26 weeks, the series goes off the air for a year and a half.
10 June 1976: Jon Pertwee returns, now Thursdays at 6pm. After moving to 5pm, the series takes another long break.
29 July 1976: The stations are renamed Iowa Public Broadcasting Network.
2 November 1977: Doctor Who returns, now Wednesdays at 5pm.
2 January 1978: One run of Jon Pertwee is stripped at 10pm.
11 April 1978: Both runs end.
1978: IPBN was the last US market to purchase the initial package of 13 Jon Pertwee stories, which was circa July 1978. (BBC documentation records this sale as being to "KDIN".)
2 October 1978: The Tom Baker stories commence at 10pm.
2 March 1979: The series goes off the air again.
1982: The network is renamed Iowa Public Television.
5 October 1984: IPT airs Doctor Who in the unique Friday-Sunday slot.
late 1985: Tom Baker returns with two episodes each Friday night.
10 June 1986: The timeslot changes to Sundays through Friday nights. Several stories are skipped.
10 October 1986: IPT switches to compilations, Friday nights at 11:00.
14 April 1987: William Hartnell premieres.
1 August 1987: The travelling Doctor Who USA Tour with Janet Fielding visits Iowa Public Television.
13 October 1989: Episodes now air out of order.
24 November 1989: Dalek stories air for eleven weeks.
12 March 1993: The Tomb of the Cybermen airs.
September 1994: The network discontinued its cycle of re-runs, with the last story to air being Survival in September. Fans were, however, able to get a reprieve by raising funds through a pledge drive. At the time, IPTV was one of the few markets in the US still screening non-stop re-runs of the omnibus editions, from An Unearthly Child onwards.
By 1998, IPTV was one of only five markets in the US still screening the series. During its broadcast history, IPTV would show often one episode multiple nights a week, one episode per week, omnibus versions every Friday night, then back to one episode per week, etc.
3 March 2001: Remembrance of the Daleks airs as part of a National Doctor Who Night repeat.
27 September 2003: The Airzone Solution and Auton, two of the BBV Productions spin-off videos, air back to back from 9pm.
11 March 2006: The Five Doctors airs.
2009: The Greatest Show in the Galaxy airs.
14 March 2015: IPTV became the first station in the world to broadcast The Web of Fear following its recovery in 2013. It aired as part of a pledge drive, starting on Saturday, 14 March, at 10:10pm, with the final episode airing at 12:20am on Sunday, 15 March. The still-missing third episode was covered by a special on-camera narration provided by Lars Pearson. IPTV to air The Web of Fear
12 March 2016: The Brain of Morbius airs.
Media
| | | | |
| --- | --- | --- | --- |
| last episode for 5 years, Mar. 2, 1979 | 1984 promo | ID, Nov. 1984? | Doctor Who USA Tour, Aug. 1, 1987 |
Iowa Public Television Catalogue
This is IPTV's online resource for Classic Doctor Who: