Dalekmania
From BroaDWcast
Jump to navigation
Jump to search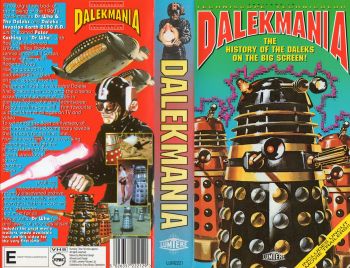 DALEKMANIA is a 57-minute direct-to-video documentary - released on VHS tape on 24 July 1995 - that celebrates the 30th anniversary of the two Peter Cushing Dalek movies.
The tagline reads
THE HISTORY OF THE DALEKS ON THE BIG SCREEN!
The video was made by Amity Productions Ltd and released by Lumiere Pictures Ltd (Lumiere at that time held the rights to the Dalek films). It was produced by John Farbrother and directed by Kevin Davies (who had previously helmed 30 Years in the Tardis).
The documentary featured new interviews with cast members Roberta Tovey, Jill Curzon, Barrie Ingram, Yvonne Antrobus, and stuntman Eddie Powell - as well as Gary Gillatt and Marcus Hearn from Doctor Who Magazine, and fan collectors of Dalek memorabilia. Terry Nation appeared via pre-existing footage taken from a US interview conducted circa 1991.
Trailers and rare behind the scenes footage also featured alongside newly-filmed linking material starring Josh Maguire (who had also appeared in 30 Years in the Tardis), Natalie Jarrett and Michael Wisher.
DVD / TV / Blu-ray
The documentary appeared in a slightly-edited form on some of the Dalek Movie DVD sets that were released in the United States, Australia and New Zealand (in 2001); France (also 2001; subtitled); the UK (2002); and Italy (for this 2010 DVD, the subtitled documentary had a much shorter run-time of 44:10 and was retitled "Dr Who Mania").
Dalekmania was screened by Sci-Fi Channel Europe on 20 April 2003; this would appear to be its transmission debut (and possibly its only TV appearance?).
The special was later included in Dalek Movie Blu-ray sets issued in the UK, Australia, New Zealand and the United States in the mid-2010s.