30 Years in the Tardis
From BroaDWcast
Jump to navigation
Jump to search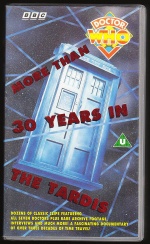 30 Years in the TARDIS is a one-off, 50-minute television documentary, broadcast to celebrate the series' thirtieth anniversary. It was originally transmitted Monday, 29 November 1993 on BBC1.
The documentary was shown in the United States on various PBS stations, including New Jersey, KTEH (San Jose), Maryland and WXEL in Florida.
Retitled More Than 30 Years in the TARDIS, a re-edited extended version (running to nearly 90 minutes) was released on BBC VHS in November 1994, and later in 2013 as part of "The Legacy Collection" DVD box set with Shada.
The extended More Than 30 Years... aired on UK Gold in January, August (see clipping at right), October and December 1997, while 30 Years... was shown on BBC Choice in November and December 1998 and July 1999, and BBC Prime in May 1999.