WTVP
From BroaDWcast
Jump to navigation
Jump to search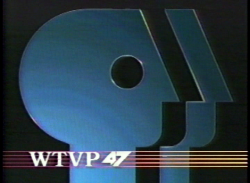 WTVP
Peoria
Network: PBS
Channel(s): 47
First airing: 1983
Last airing: 1993

---

== AIRDATES ==

fall 1983: An apparently unscheduled broadcast of Doctor Who airs, probably during a pledge break.
23 November 1983: The Five Doctors airs. It is repeated ten days later.
13 February 1987: The series finally begins, Friday nights, with a run of seasons 17 to 23.
1 July 1988: The 24 repackaged Jon Pertwee stories air.
14 October 1988: An incorrectly edited video tape of Frontier in Space was supplied to WVTP; half way into the omnibus, the second 'half' of the Patrick Troughton story The Dominators suddenly started!
2 December 1988: During the broadcast of Planet of the Spiders, a pledge break came in mid-way through an episode, but when the episode resumed, the 'story' had advanced by 20 minutes (i.e. the episode was left running when the pledge break switched in).
9 December 1988: Tom Baker returns, beginning a run of seasons 17-25.
18 August 1989: The start time is backed up five minutes to make room for Star Hustler.
15 September 1989: The Making of Doctor Who is aired followed by The War Machines, the first William Hartnell episode to air.
7 September 1990: An Unearthly Child and The Five Doctors air as a "Double Feature Pledge Drive" special.
7 December 1990: A repeat of the Pertwee era comes to an end, with Planet of the Spiders.
27 December 1991: After a year-long break (the slot was filled with Blakes 7), the series returns, starting with Robot, running through to the Sylvester McCoy era, although some stories were skipped.
21 August 1992: The recently recovered The Tomb of the Cybermen screens.
20 November 1992: Survival screens.
27 November 1992: Random stories air, including William Hartnell and Patrick Troughton stories not previously seen on WTVP. These specials are billed as Doctor Who Monsters.
6 June 1993: The Greatest Show in the Galaxy ends the run on WTVP.
| | |
| --- | --- |
| | |