Russia
From BroaDWcast
Jump to navigation
Jump to search
The classic series was not shown on any local terrestrial channels in RUSSIA (which until 1991 was part of the Soviet Union (USSR)).
As far as we can determine, UK satellite and cable stations such as Super Channel, BBC World Service Television Europe and BBC Prime were not available, so until the New Series aired in Russia from March 2006, Doctor Who - or "Доктор Кто" as it is called there - was an unknown entity.
DOCTOR WHO ("Доктор Кто") IN RUSSIA
Although not seen on TV, Classic Doctor Who merchandise later became available in Russia.
Books
A number of publications featuring the Classic Doctors have been translated into Russian.
Translated fiction books include:
Published by Eksmo:
Доктор Кто. 11 докторов. 11 историй (the short story anthology 11 Doctors 11 Stories) (2015)
Published by AST:
Доктор Кто - Шада (Shada) (May 2016)
Доктор Кто - Город смерти (City of Death) (Feb 2018)
Доктор Кто - Пиратская планета (The Pirate Planet) (June 2018)
Доктор Кто - против Криккитян (The Krikkitmen) (June 2019)
Доктор Кто - Сказки Повелителя времени (Time Lord Fairy Tales anthology (January 2017)

Translated non-fiction books include: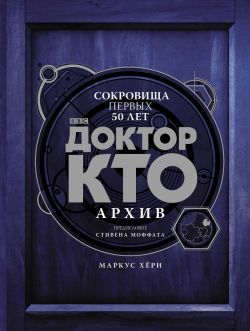 Доктор Кто - Жизни и времена (The Doctor - His Lives and Times) (August 2016)
Доктор Кто Энциклопедия персонажей (Visual Dictionary) (2016)
Доктор Кто - Веселые квесты Повелителя Времени (Time Lord Quiz Quest) (in April 2017)
Доктор Кто Архив (The 2013 50th Anniversary celebration book Doctor Who The Vault by Marcus Hearn) (April 2018)
Доктор Кто - Энциклопедия Тардис (The TARDIS Handbook) (July 2018)

A number of the novels and anthologies based on the New Series and Torchwood have also been translated.
Dalek Movie on Blu-Ray?
A dubbed and subtitled Blu-ray edition of the first Peter Cushing Dalek movie - titled Доктор Кто и Далеки - is apparently available in Russia (DETAILS HERE, AND HERE), but we suspect this is an unofficial unlicensed or a fan-made product as we can find no proper examples of the Blu-ray box cover.
Links
USSR / Russia in Doctor Who