The Tenth Planet
From BroaDWcast
Jump to navigation
Jump to search
This story aired in the following three countries. They are listed in chronological order according to airdate. (Refer also to Selling Doctor Who for expanded airdates.)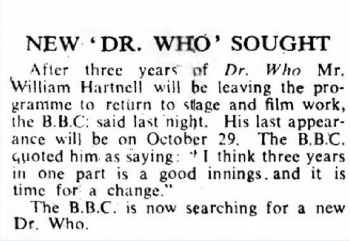 The Tenth Planet was the first story made in the fourth production block, and as such was not included in any package of stories on offer; the latest package included up to The Smugglers only. Serial DD and all subsequent serials would be part of the next run of stories to be offered. When the Dalek stories were withdrawn from sale by agreement between the BBC and Terry Nation (from late 1966 to the end of 1967), the sale of this story and The Power of the Daleks to Australia had already been completed.
The ABC in Australia returned its prints to the BBC on 4 June 1975.
In 1982, a print of part 2 was found in the possession of a film collector, who had "acquired" the film from the BBC at some point in the 1970s; this may well be the ex-Australian print, which would mean the existing prints of 1,2 and 3 were indeed the ex-New Zealand / Singapore ones.
See also Hartnell Junkings
Reconstruction
The missing Part 4 was animated, and the story released on DVD in 2013.
From December 2019, the animated reconstruction of the story was available on UK BritBox.
Links