The Faceless Ones
From BroaDWcast
Jump to navigation
Jump to search
This story aired in the following five countries. They are listed in chronological order according to known airdate. (Refer also to Selling Doctor Who for expanded airdates.)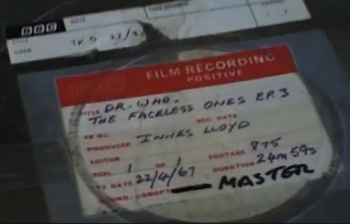 The films were examined by the New Zealand censors in August 1969, but given a "Y" rating. The episodes did not air. The films were sent to London on 3 July 1970.
The NZ films may have been subsequently earmarked for Zambia...

ZTV had got as far as screening The Moonbase part four on 1 July 1970, with The Macra Terror part one due the following week. BBC sales paperwork indicates that The Faceless Ones was sold to Zambia by March 1970, on the same date as the other season four serials, and yet it didn't air until three years later. Had the prints of The Faceless Ones that had been originally supplied to Zambia gotten lost, or perhaps damaged? (Is the damaged print of episode 3 that was recovered in the UK in 1987 the unusable print that had been returned from Zambia?)
With the airdate for the serial looming, were replacements hurriedly sourced from New Zealand, only for that set of films arriving in Zambia too late to be played at the end of the run, so rather than screening the serial on its own at a later date, ZTV put it "on the shelf" where it sat for three years, and they aired it with the next batch of episodes they received in 1973: see The Abominable Snowmen...

The ABC in Australia returned its prints to the BBC on 4 June 1975... however:
... a print of part one still bearing the censor edits was found in the possession of an Australian film collector, who had owned it since 1970! It's possible that the ABC had two copies of this episode: one was discarded in 1970 (soon after the delayed repeat screening in Melbourne in May 1969), and the other sent back to the BBC with the others in 1975.
The BBC retained the original telerecording negative for part 1. It's not clear whether or not they also had a print of the episode. If they did, it would be either the one returned by New Zealand in 1970, the one sent back by Australia in 1975, or it was returned by Zambia.
A damaged print of part 3 was found in the possession of film collector Gordon Hendry in early 1987 (along with part 2 of The Evil of the Daleks). He'd acquired both prints from a private dealer in 1983. (Hendry placed his own labels on the film cans -- see image above.)
The existing prints of parts 1 and 3 are therefore likely to be the remnants of the returns from Australia, New Zealand and/or Zambia...
See also the Troughton Junkings page.
Links