KPRC
From BroaDWcast
Jump to navigation
Jump to search
Variety,

16 August

1978
KPRC was one of the first stations to purchase the Tom Baker stories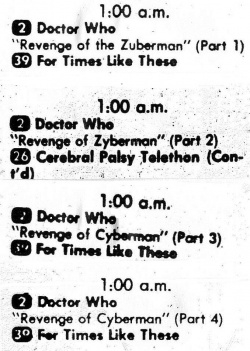 KPRC receives the BroaDWcast award for most inept scheduling:
18 September 1978: The series commences, airing Monday-Friday at 3pm.
The 35th and last episode airs on 3 November 1978, which is mid-story (possibly The Android Invasion?)
The series is dropped in favour of comedies, such as The Mary Tyler Moore Show and The Odd Couple (as reported in the 15 November 1978 edition of Variety - illustrated below; although they misprint the call-letters as "KPTC").
8 March 1980: The series returns, now at 12:30am.
26 April 1980: The timeslot is now pushed back to 1am.
6 September 1980: The Deadly Assassin part 1 airs at the scheduled time of 2am.
25 October 1980: With the end of the baseball season, Doctor Who now also airs Saturday afternoons at various times. These airings are considered to be the same run, so stories begun in the afternoon are finished in the middle of the night.
4 April 1981: Baseball returns, Doctor Who leaves the afternoon schedule. But the late night slot gets a second (and sometimes third and fourth) episode.
10 October 1981: Doctor Who returns to Saturday afternoons in various slots, often preempted.
Doctor Who Monthly issue 71 (Dec. 1982) published an anecdote from a KPRC viewer:
For several months our local TV station personnel began making fun of it-- adding their own sound effects and laughter. Can you imagine the Skarasen (Terror of the Zygons) burping? I have it on videotape! Also, whenever shown on Sunday [they probably mean Saturday?] afternoons, it was cut to 90 minutes (including commercials) so with The Masque of Mandragora we had the whole last ten minutes chopped out.