Death to the Daleks
From BroaDWcast
Jump to navigation
Jump to search
This story aired in the following known countries. They are listed in chronological order according to known airdate. If no month is noted, the actual airdate is not confirmed, and is a close approximate. (Refer also to Selling Doctor Who for expanded airdates.)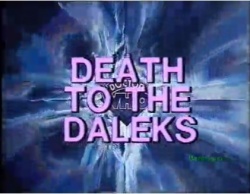 The video tapes for this serial had been sent to the United Arab Emirates on 14 November 1974. Although exact airdates are unknown, the serial would have been shown there in early/mid-1975.
If this story was telerecorded as a black and white film print for foreign sales, the prints were never used.
This serial was the first colour Jon Pertwee serial to be received by New Zealand, and assessed by its censors in December 1974. It had to sit "on the shelf" for a couple of years to wait until earlier Pertwee serials had been acquired and screened. Of course, by then, most of his stories had already been wiped and were no longer available in PAL...
New Zealand sent the tapes (after making transmission copies to screen in August) to Brunei on 18 February 1976. The serial screened there under a year later. (Brunei appears to have sourced the bulk of its Pertwee tapes from Australia, but this Dalek story was instead sourced from NZ probably because the ABC tapes were edited.)
The serial aired in Boston only; the rest of the United States did not get the serial until the 1983 re-issue. This appears to have been a special one-off deal struck between WGBX and the BBC that was in addition to the standard Time-Life deal that was available elsewhere. (The BBC took the opportunity to also sell the serial to Canadian stations TVO and CKVU at the same time, presumably to cover the costs of having NTSC conversions made.)
The Saudi Arabia TV station that screened the series, changed to PAL in 1979.
Around this time the BBC lost its PAL copy of episode 1. A copy was retrieved from Australia, but that was missing segments that had been cut by the censors. An uncut NTSC copy of part 1 was later recovered from Canada. A composite from the two formats was made to restore the PAL master copy, which was used for the 1987 VHS release.
In 1991, a complete set of PAL tapes - including an uncut copy of part 1 - was returned from the United Arab Emirates. The BBC now finally had an uncut full PAL copy of the episode.
Reissue
US TV Guide descriptions
More Information
Title: Death to the Daleks

Episode 1: Dr. Who and Sarah touch down on a paradise, only to find that they are surrounded by hostile inhabitants and their ship's power source has been drained.

Episode 2: The Daleks are forced to cooperate with the earth party—but not for long.

Episode 3: The Doctor meets an unexpected ally who tells him the history of the Exxilons.

Episode 4: The Doctor matches wits with the brain of the city, while Sarah and Jill deal with the Daleks.

Compilation: When the Tardis touches down in paradise, Dr. Who and Sarah are surrounded by hostile inhabitants.
Links