Scranton/Wilkes-Barre/Hazleton
From BroaDWcast
Jump to navigation
Jump to search
Variety,

16 August

1978
WVIA was one of the first stations to purchase the Tom Baker stories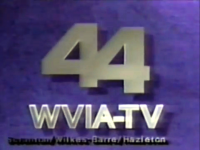 22 October 1975: The Jon Pertwee stories begin, Wednesdays and Sundays.
11 September 1978: The series returns, with the Tom Baker stories.
23 March 1983: Once Upon a Time Lord airs.
8 March 1986: Doctor Who's Who's Who airs.
1984/85: The Peter Davison stories air. (Episodes play five days per week, at 7:00 and/or 7:30.)
The Davisons were followed by the package of Jon Pertwee serials that only existed complete in colour.
The Bakers and Davisons were then repeated, followed by a run of season 22 Colin Baker stories. (The Davison runs included the episodic version of The Five Doctors.)
By summer 1986, the reissued 17 William Hartnell and five Patrick Troughton serials were added to the schedule, followed by more repeats of Pertwee, T Baker, Davison and C Baker.
1987?: The Trial of a Time Lord and the 24 repackaged Jon Pertwee stories air around this time.
1988: The entire series, starting with An Unearthly Child was re-run again, ending with the first Sylvester McCoy series.
1996: The series was still on the air.
| | |
| --- | --- |
| | |
Media
Channel 16 (ABC)
24 December 1986: Both Peter Cushing Dalek movies aired on Christmas Eve.