Anchorage
From BroaDWcast
Jump to navigation
Jump to search
KIMO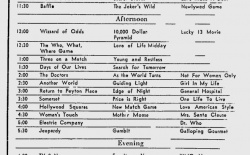 4 June 1973: The initial package of 13 Jon Pertwee stories / 72 episodes offered by Time-Life played, weekdays at 5:00pm. Doctor Who was preempted for ABC Afterschool Specials which aired in Alaska one week after the rest of the country.
September-November 1973: Doctor Who is temporarily replaced by Star Trek.
5 April 1974: The run ends.
KAKM
KAKM
Network: PBS
Channel(s): 8
First airing: 2016
Last airing: