New Orleans
From BroaDWcast
Jump to navigation
Jump to search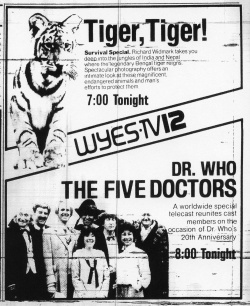 3 January 1981: The Tom Baker stories begin.
1981: The Companions of Doctor Who fan club is established.
31 October 1981: Trick or treat-- After a complete run, Doctor Who is rested after this night's airing.
8 May 1982: Doctor Who returns with, for no apparent reason, Image of the Fendahl.
23 November 1983: The Five Doctors airs.
1986: WYES produced They All Axed for Who, a special centered around the July 1985 North American Time Festival.
5 December 1986: Doctor Who's Who's Who airs at 11:10pm.
6 December 1986: The Friday slot moves to Saturdays at 10:pm and begins with the William Hartnell stories.
26 May 1989: Doctor Who ends.
Media




WYES Doctor Who promo, Jan. 15, 1981