UK Gold
From BroaDWcast
Jump to navigation
Jump to search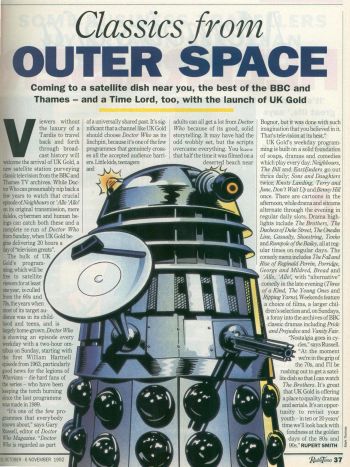 UK Gold, a British satellite channel specializing in repeats, was launched on 1 November 1992. It aired Doctor Who from 2 November 1992 to 14 April 2007 in episodic and omnibus editions.
From mid-2003, rights issues prevented any Dalek stories from being shown - including The Five Doctors.
From 22 - 23 November 2003, it ran a special Doctor Who @ 40 weekend, which featured omnibus editions of 'fan-favourites' selected by a poll, with new interviews with cast members, production personnel, and well-known fans.
In July 2007, screenings transferred to sister channel UKTV Drama.
The channel has since been renamed Gold, and is now part of the wider UKTV network.
Airdates
A downloadable schedule of all UK Gold's Doctor Who airdates is available here: