The Visitation
From BroaDWcast
Jump to navigation
Jump to search
This story aired in the following known countries. They are listed in chronological order according to known airdate. If no month is noted, the actual airdate is not confirmed, and is a close approximate. (Refer also to Selling Doctor Who for expanded airdates.)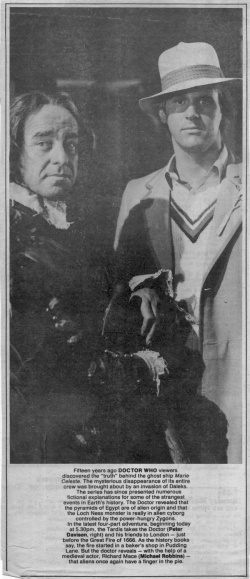 This was the only Davison story to screen in the Seychelles.
The story was later dubbed into German and released on DVD. It was also released on DVD in the Netherlands (subtitled) in the mid-2000s.
US TV Guide descriptions
More Information
Title: The Visitation

Part 1: The Doctor travels to 1666 London, where he discovers evidence of alien activity.

Part 2: Reptilian creatures from a prison planet plan to take over earth.

Part 3: The Doctor, Mace and Tegan are held captive by the Terileptils.

Part 4: Nyssa constructs a weapon to destroy the android.

Compilation: In 1666 London, the Doctor discovers evidence of alien activity.
Links