Difference between revisions of "United States--1983"
From BroaDWcast
Jump to navigation
Jump to search
---
Latest revision as of 02:18, 17 October 2020
February 1983: The character profile for new series regular, Perpugilliam (Peri) Brown, is drawn up. By this time John Nathan-Turner had been to at least four conventions in the US...
March 1983: Lionheart continues to promote the 172 episodes / 41 "movie" package of Tom Baker serials of Doctor Who at the annual NATPE exhibit in Las Vegas, hosted in a special "Doctor Who Bar at the End of the Universe". (Given the announcement made at Longleat a few weeks later (see below), the deal to sell the third Doctor serials into the US syndication market had probably not been finalised, hence no mention of Jon Pertwee in Lionheart's print advertisement at right.)
3/4 April 1983: At the Easter weekend Longleat festival on 3 and 4 April 1983, Jon Pertwee announced that his stories were going to be made available again: "I'm delighted to hear yesterday from JNT and the American gentleman who's over here [from Lionheart who] distribute Doctor Who in America... And I gather that my stories are going to be shown in 1985? Is it 1985? (Looks to JNT, who nods). In 1985, after Peter's 26 and another 26, and then they're taking all mine".
By mid-1983, the second Peter Davison series -- season 20 -- is made available for syndication:
---
Six stories, 22 episodes (also in "movie length" omnibus editions):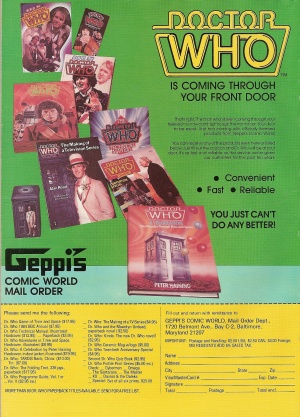 June 1983: By June, with two Davison seasons on offer, Lionheart releases a limited package of Jon Pertwee stories, two years early. This package consists of 14 serials, 73 episodes, and features just those serials that exist in their entirely in colour (but only on tape; Spearhead from Space is not included). The 14 serials are seven that had previously been available in the 1972 package, plus the seven adventures from seasons 10 and 11 that had previously only been sold to WGBX in 1977 (and also to CKVU and TVO in Canada), but which had not been available elsewhere in the States. The serials were also available as "movie length" omnibus editions.
This package included a re-issue of: Inferno, The Claws of Axos, Colony in Space, Day of the Daleks, The Sea Devils, The Mutants and The Time Monster, many of which had been recovered in colour from Canada only a few years earlier. The other stories were The Three Doctors, Carnival of Monsters, The Green Death, The Time Warrior, Death to the Daleks, The Monster of Peladon and Planet of the Spiders. At the time the deal was signed off, full colour tapes of Inferno had just been found in Canada, although copies had yet to make their way back to the BBC in London. (The Curse of Peladon was not included in the deal, presumably on account of the very poor state of the tapes recovered in 1981, and which hadn't yet undergone a full restoration, something which wasn't achieved until 1982; plus, to covert the restored tape back to NTSC would have resulted in a very poor quality image.)
Lyle Stuart Inc, in Secaucus, New Jersey, becomes the exclusive distributor of Target books in the United States. Target reprints all the available back-titles. They retail from $2.50.
The 9-15 July 1983 issue of TV GUIDE has a small half-page feature, "Happy Birthday to Who?", and mentions the upcoming 20th anniversary in November. (See also The Five Doctors.)
23 November 1983: The Five Doctors makes its world premiere – two days ahead of its UK transmission - via a network link-up of at least 80 PBS stations across the country (a list of many of these is available HERE):
---
One story, 90 minutes:
As a result of this special screening, Doctor Who is later sold to many more US stations, such as KCET in Los Angeles.
26-27 November 1983: Spirit of Light's Doctor Who The Ultimate Celebration convention is held in Chicago
Starlog Press publishes a "US" edition of the Radio Times 20th Anniversary Special. It retails for $4.95. There are (at least) two distinctive printings of the magazine: one with a red banner saying "TV's TIMELESS TIME LORD" and one without the banner. (The interior is identical to the UK printing, except for the page which had a competition; this was replaced by an advertisement.)