TV Movie
From BroaDWcast
Jump to navigation
Jump to search
This story aired in the following known countries. They are listed in chronological order according to known airdate. If no month is noted, the actual airdate is not confirmed, and is a close approximate. (Refer also to Selling Doctor Who for expanded airdates.)
| | | |
| --- | --- | --- |
| | | |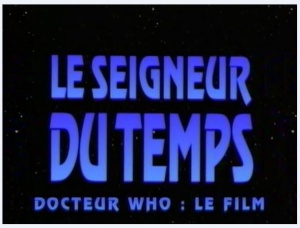 Fox aired the movie on over 150 channels in the United States.
In the UK, the movie was officially released on VHS tape on 22 May 1996, five days ahead of its broadcast on BBC1 (with some stores staying open late on 21 May to sell the tape from midnight). The tape and the TV version were edited to remove the graphic images of gun-fire (in the wake of the recent mass shooting at a school in Dunblane, Scotland).
The Movie was distributed to Commonwealth TV markets by the BBC, and to non-Commonwealth markets by Universal Television, hence it had far wider sales internationally.
The film was available on the In-flight TV Systems of Singapore Airlines, and was shown 99 times between July and September 1996 by British Airways. It was also available on Merchant Navy vessels.
The Movie was also distributed on VHS tape by CIC Video (which was Universal's home entertainment division), to many other countries around the world, from 1996 to 2005; the commercial releases (either subtitled or dubbed) were mainly for the rental market only, but for some countries the tape was the only version of Doctor Who that was seen.
The Movie first aired on UK Gold on 7 February 1998, BBC Choice on 22 November 1998, by BBC Prime on 2 and 7 May 1999, with a third showing on 30 December 1999 - the actual date on which the story is set! On 13 November 1999, the uncut US version (with the "Based on the original series broadcast on the BBC" caption intact) was shown by BBC2 during its Doctor Who Night special event.
In February 1999, the Movie was available to several Central and South American countries via the HBO OLE cable link.
Sci-Fi Channel's UK/Europe station aired the film for the first time on Saturday, 2 November 2002, and then several more times during the next ten months. It aired again on 25 August 2008 - twice!
| | | |
| --- | --- | --- |
| FOX US trailer | Canadian CHCH Channel 11 intro | FOX intro |
| | | |
| --- | --- | --- |
| FOX promo | FOX promo | BBC1 trailer |
Links