KTCA
From BroaDWcast
Jump to navigation
Jump to search
More information about
KTCA
can be found at the
Doctor Who Cuttings Archive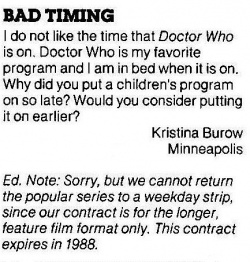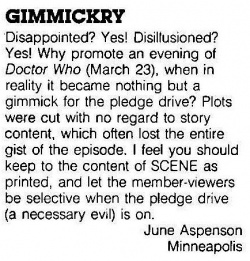 14 February 1987: Colin Baker returns.
4 April 1987: Another run of William Hartnell and Patrick Troughton begins on Saturday nights.
1 May 1987: Tom Baker returns.
14 November 1987: The Trial of a Time Lord airs after Patrick Troughton finishes.
12 December 1987: Jon Pertwee begins airing on Saturday nights.
March 1988: The Trial of a Time Lord airs, followed by Time and the Rani, which plays on its own. The rest of the McCoy era airs after 1989. The series now airs Saturdays, at 11.00pm.
1988: The 24 repackaged Jon Pertwee stories had screened by September 1988.
10 March 1990: The Saturday airings end with Survival.
9 September 1990: The series returns with back to back on Sunday afternoons.
29 November 1991: Five stories air the day after Thanksgiving.
1 January 1992: The series ends with a New Year's Day marathon of three stories.
8 May 1999: Fan clubs get the series reinstated. Doctor Who now airs episodically, Saturday nights around 11:30.
28 September 2002: After one last run of Tom Baker episodes, Doctor Who ends in Minnesota.
| | |
| --- | --- |
| | |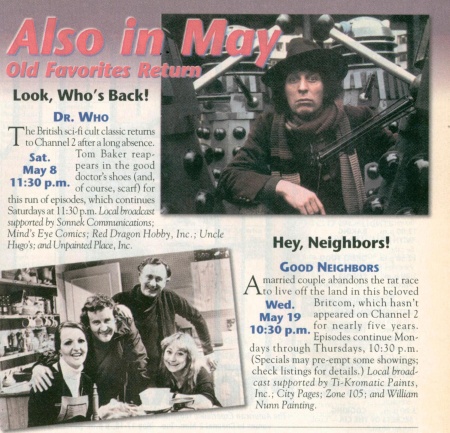 Media
| | | |
| --- | --- | --- |
| 1983 promo | Convention promo and Hartnell intro | Celebration commercial |
| | | |
| --- | --- | --- |
| Festival 86 | Festival 87 | 1989 vacation |