HBO Max
From BroaDWcast
Jump to navigation
Jump to search
HBO Max is a US online video-on-demand service from WarnerMedia Entertainment, due to launch on 27 May 2020, with a monthly subscription of $14.99.
DOCTOR WHO ON HBO MAX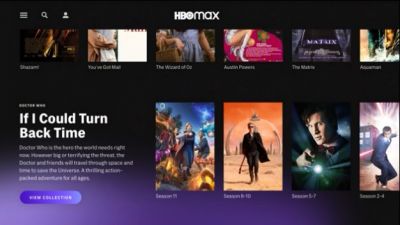 By August 2019, WarnerMedia signed a long-term deal with the BBC for the exclusive streaming rights to the back-catalogue of the new series of Doctor Who, unseating Amazon Prime as the primary online provider of the series in the US.
On 30 October 2019, HBO Max announced that it had not only acquired all 11 of the previous series so far, but also the option on "an additional three seasons to come" - which would be 12, 13 and 14 - following their debut broadcasts on BBC America. Note: series 12 has completed production and is due to air in January 2020, and while the deal doesn't actually guarantee that there will be a series 13 and 14, it does mean that HBO has the exclusive rights to them when they have been made.
(Future series of Doctor Who - Twitter)
It's not yet known if HBO Max will also have Classic episodes. If not, these will continue to be available for the foreseeable future on iTunes, Britbox and Hulu, as well as on the handful of PBS and other US TV stations still showing the series (currently Retro TV, KBTC, KRSU, WMVS, WSRE, Iowa Public Television, and Idaho Public Television…)