Cleveland
From BroaDWcast
Jump to navigation
Jump to search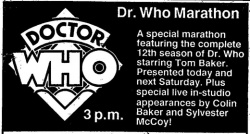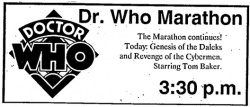 | | |
| --- | --- |
| | ← AIRDATES ...... (CLICK ICON TO GO TO TABLE SHOWING EPISODE BREAKDOWN AND AIRDATES - N/S = story title is Not Stated) |
Channel 25 (PBS)
6 October 1980: Tom Baker premieres, weekdays at 7pm.
25 March 1981: The run of Baker episodes concludes, apparently with a re-run of Robot part one!
24 November 1990: Season 26 premieres.
8 August 1992: Survival ends the run in Cleveland.
Channel 8 (Fox) (aka WJKW)
The two Peter Cushing Dalek movies aired during the 1980s a couple of times, as part of "Big Chuck and Lil Jon Show", a Friday late-night movie show that specialized in SF and horror B-movies.