United States--1988
From BroaDWcast
Jump to navigation
Jump to search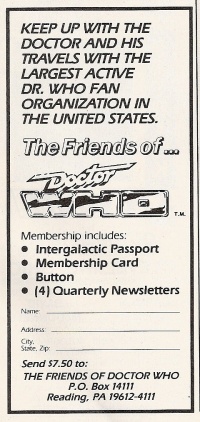 .
In February 1988, Lionheart announces that Doctor Who had been sold to 206 markets across the USA.
1988: By the start of 1988, more PBS stations have dropped the series. Lionheart tries the tactic of forcing stations who want the new Sylvester McCoy stories to also buy full runs of older stories - so some stations don't buy either!
---
Four stories, 14 episodes (also in "movie length" omnibus editions):
Lionheart launches The Friends of Doctor Who, the first and only official US Doctor Who fan club.
The BBC announces that sales to America have helped generate £27,500,000, an increase of 14% on its 1986-87 income.
The Doctor Who USA Tour comes to an end.
19 November 1988: The Making of Doctor Who screens on the New Jersey Network. Sylvester McCoy and Sophie Aldred attend a screening.