The Brain of Morbius
From BroaDWcast
Jump to navigation
Jump to search
This story aired in the following known countries. They are listed in chronological order according to known airdate. If no month is noted, the actual airdate is not confirmed, and is a close approximate. (Refer also to Selling Doctor Who for expanded airdates.)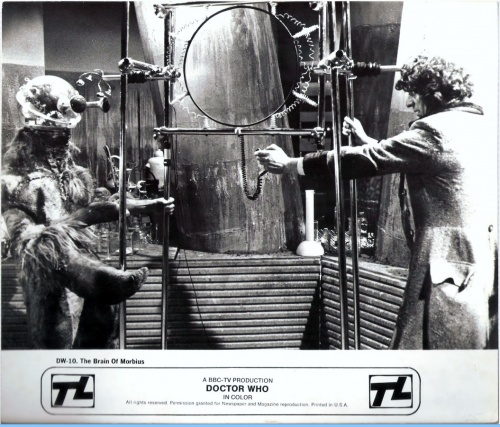 (*) The US date is based on the airdates for WTEV, which was the first US station to screen the initial package of 98 Tom Baker episodes.
The Time-Life copy of episode 1 was missing music and some sound effects.
This story was dubbed into Spanish (for Latin America); Japanese; Catalan, Galician and Spanish (for Spain); and subtitled in Dutch.
The story was initially classified "A" by the censors in Australia. The ABC however only screened the 60 minute omnibus version that had been "repeated" in the UK on 4 December 1976. The full version finally aired in Australia in May 1987.
The edited-down 1976 repeat was cut further to fit a standard 60 minute video cassette, and released on VHS and Beta in 1984.
The story was also released on subtitled VHS in Norway.
Reissue
The story was reissued in the mid-1980s, during the THIRD WAVE of sales.
US TV Guide descriptions
More Information
Title: Brain of Morbius

Part 1: Dr. Who visits the desolate planet of Karn.

Part 2: The Doctor is condemned to death by the Sisterhood of the Flame.

Part 3: Solon wants the Doctor's head for the body of Morbius.

Part 4: Dr. Who fights the body controlled by the brain of Morbius.

Compilation: Dr. Who visits the planet of Karn to find that its inhabitants desire his head for the body controlled by Morbius's brain.
Links