Sci-Fi Channel
From BroaDWcast
Jump to navigation
Jump to search
The SCI-FI CHANNEL was launched on 24 September 1992; it is an American basic cable and satellite channel specialising in science fiction, fantasy, horror, supernatural, paranormal, drama, and reality programming.
From 1999 it was rebranded as just Sci-Fi, then in 2009 it became stylized as syfy or Syfy, and since 2017 as SYFY.
The channel acquired the rights to Doctor Who, but initially just the available William Hartnell stories and Patrick Troughton stories (23 serials / 110 episodes; this included the recently-recovered The Tomb of the Cybermen). However, by the time the station went to air in September 1992, the senior management had changed...
Doctor Who on SCI-FI
24 September 1992: The SCI-FI Channel launches, Thursday, 24 September, at 8.00pm (EST). Included in its regular schedules is Doctor Who, to be screened from 12.00 to 1.00pm, six days a week. The hour-long timeslot is to allow for the half-hour or 45 minute episodes to screen uncut, but with ads and short programming filling the rest of the hour. That episode was then to be repeated at 1.00am.
The station cites that due to contractual reasons they are not able to screen any Jon Pertwee stories or Tom Baker stories, but that it will run the series from the very beginning, starting with An Unearthly Child – HOWEVER the first story to screen is ... Robot!
This sudden change was due to the new management wanting to screen the more popular Tom Bakers. Since the original contract was for 110 episodes, that was how many Baker episodes they could acquire - which was Robot to The Stones of Blood. But they also acquired one further serial - The Androids of Tara, making the package now 114 episodes.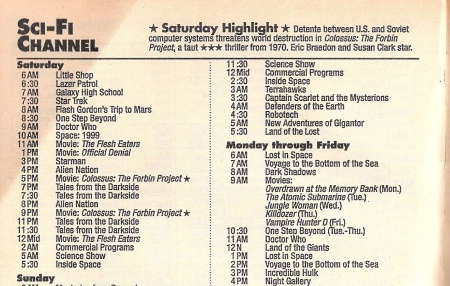 Due to oversight, the 'extra' serial was missed from the schedule, and the first run of episodes ended with The Stones of Blood, then cycled back to Robot!
The 27 serials / 114 episodes cycled through at least two more times - but if some accounts are correct, one of these cycles also ended early, this time after The Androids of Tara part 3!
27-28 March 1993: As part of a two-day 30th Anniversary "What When and Where of Who" event (albeit some eight months premature!), the sequence of The Making of Doctor Who documentary, K9 and Company, and The Five Doctors – the only non-Tom Baker story to screen on SCI-FI – is cycled through by some accounts as many as SIX times! (see trailer below)
During 1993, SCI-FI screens The Doctor Who Hour on Saturdays, at 9.00 to 10.00am, and 9.00 to 10.00am weekdays. Towards the end of the year, the slot shifts to 11.00 am to noon on weekdays - see TV Guide at right.
December 1993: By the end of the year, SCI-FI channel drops Doctor Who from its line-up...
16-19 February 1996: The channel's daily SF News bulletin, Sci-Buzz, attended The Seventh Seal of Gallifrey One convention in Van Nuys, Los Angeles, interviewing fans and guests, including Sylvester McCoy, Sophie Aldred, John Levene and Terry Walsh.
15 July 2001: The Paul McGann TV Movie airs on SCI-FI. (The Movie also airs on SCI-FI's sister channels in the UK and in Southern Africa in 2002 and 2003 (while classic series omnibuses aired in 2008 and 2010 - see that profile for details.)
17 March 2006 to 5 April 2008: The first four full seasons of the new series (Eccleston and Tennant) screen on the SCI-FI Channel. (All subsequent series air on BBC America...)
| | | |
| --- | --- | --- |
| "The Dr Who Hour" promo | 1993 "What Where and When of Who" promo | Generic SFC promo |
Airdates
Other Sci-Fi Channels
Links