New Bedford
From BroaDWcast
Jump to navigation
Jump to search
Variety,

16 August

1978
WTEV was one of the first stations to purchase the Tom Baker stories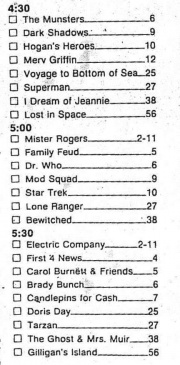 The 16 August 1978 issue of Variety magazine (see United States--1978) lists "PROVIDENCE" as one of 17 cities to which the Tom Baker stories of Doctor Who had been sold. Presumably, this is Providence, Rhode Island. The only station serving that state known to have screened the series in 1978, was WTEV, a CBS-affiliated television station for Rhode Island and the South Coast of Massachusetts, licensed to New Bedford, but headquartered in and operated from studios in downtown Providence, Rhode Island. The clipping below from Back Stage magazine confirms the station served the "New Bedford-Providence" region.
28 August 1978: The Tom Baker stories may have made their US DEBUT on this channel on Monday 28 August 1978, screening weekdays at 5.00pm.
22 January 1979: The series moves to 4:30.
12 March 1979: Back to 5:00.
In the March 1979 issue of Starlog magazine (issue 21; cover dated April), a reader from East Providence, Rhode Island, wrote to say she had become hooked on Doctor Who with the Tom Baker stories. Presumably she was viewing the series from one of the Massachusetts stations.
22 April 1979: The Tom Baker stories move to Sundays at 12.30pm.