KPTS
From BroaDWcast
Jump to navigation
Jump to search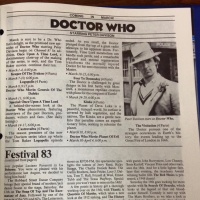 KPTS
Hutchinson/Wichita
Network: PBS
Channel(s): 8
First airing: 1981
Last airing: 2014

---

== AIRDATES ==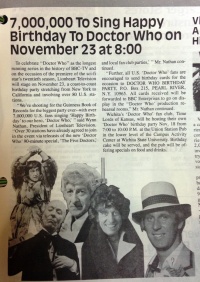 13 July 1981: Began airing, weekdays at various times between 17:00 and 18:30. A Saturday airing was eventually added.
11 March 1983: Once Upon a Time Lord airs.
14 March 1983: The Peter Davison episodes begin.
2 October 1983: Once Upon a Time Lord airs.
23 November 1983: The Five Doctors airs.
18 August 1984: Once Upon a Time Lord airs.
5 August 1985: The Jon Pertwee stories begin. They were repeated in 1987/88. Around this time, the Wichita station did a promotional commercial during its fundraisers. The trailer promoted the station's investment in the Tom Baker and William Hartnell/Patrick Troughton runs.
Spring 1989: The series ends.
7 March 2014: The series returns for 12 weeks. Each other story will feature a short introduction by the local fan club The Whovians of Wichita.