OETA
From BroaDWcast
Jump to navigation
Jump to search
Variety,

16 August

1978
OETA was one of the first stations to purchase the Tom Baker stories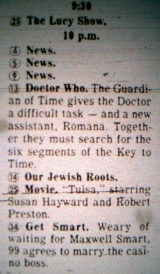 7 October 1978: The standard package of 23 Tom Baker stories begins screening in production order, in a 9.00pm timeslot, with two episodes airing back to back.
29 November 1980: After two runs, the series goes off the air.
30 May 1981: The Ribos Operation part 1 airs, Saturday, 10.00pm. OETA is one of the first US stations to screen Tom Baker stories other than the original package of his first 23 stories (98 episodes) that had been on offer since 1978. This new package comprised seasons 16 to 18 (The Ribos Operation to Logopolis; 18 stories, 74 episodes) which had been released by the BBC in early-1981, just prior to Time-Life's contract expiring and Lionheart taking over the distribution in the States.
14-16 August 1981: John Nathan-Turner and Peter Davison make their first-ever US convention appearances, in Tulsa. Davison had just finished recording Kinda.
13 November 1982: After a repeat of the new package, Robot returns.
5 September 1983: The weekday airings (5pm, start date unknown), move to 10pm to make way for the debut of the hour-long MacNeil Lehrer Newshour. The story is picked up by the Associated Press when kids complain about the later timeslot. The Saturday airings continue.
22 October 1985: The complete Jon Pertwee package, minus Planet of the Daleks 3 and Invasion of the Dinosaurs 1 begins.
3 February 1986: Weekday airings move from 10pm to 5:30pm (see promo below) to make room for The Tripods and eventually Blakes 7. TV Guide lists the first week at 5:00pm.
26 March 1986: Robot again.
28 June 1986: The weekday airings end. The series moves back to Saturday nights. Eventually entire stories are aired each week.
11 April 1987: The Colin Baker stories begin.
| | |
| --- | --- |
| OETA promo, January 1986 | OETA ID and Cosmic Quest ad, December 1986 |