K9 and Company
From BroaDWcast
Jump to navigation
Jump to search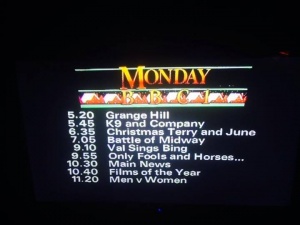 This story aired in the following known countries. They are listed in chronological order according to known airdate. If no month is noted, the actual airdate is not confirmed, and is a close approximate. (Refer also to Selling Doctor Who for expanded airdates.)
US syndicator Lionheart also offered the story as two half-hours (presumably with a cliffhanger at an appropriate mid-way juncture). However, as far as we can tell, the story was never aired by any US station in that alternative format.
US TV Guide description
During the Christmas season, Doctor Who's assistant Sarah Jane Smith and K9 search for Sarah's Aunt Lavinia.
Links