Atlantic Canada
From BroaDWcast
Jump to navigation
Jump to search
Summary
For the purposes of this guide, Atlantic Canada covers:
New Brunswick
Prince Edward Island
Nova Scotia
Newfoundland and Labrador
(see full list of stations below)

This page does not include CFLA Goose Bay, which is dealt with in the Kinescopes Canada section, which covers those stations that did not have any access to the live network feeds.
For all these stations, the series started on Saturday, 23 January 1965 and ended on Friday, 9 July 1965. (No episode aired 6 February 1965 due to coverage of the Bob Hope Desert Golf Classic.)
For the ten Saturday episodes (up to 3 April) the broadcasts were via the live microwave network feed from Toronto.
For the remaining 16 episodes that started on Wednesday, 21 April 1965 the broadcast was via a week-delayed kinescope film transmitted from CBHT Halifax and relayed to all of Atlantic Canada. (For more on the use of kinescope, see our separate coverage of Kinescope Stations.)
AIRDATES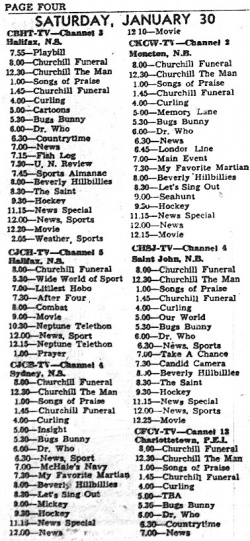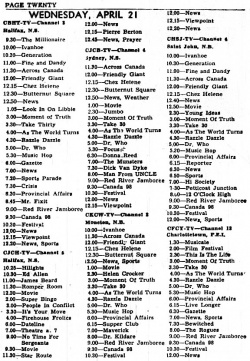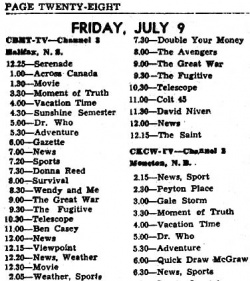 The ten Saturday episodes were seen in Atlantic Canada via the live microwave network. With the one hour time zone difference (90 minutes for Newfoundland), Doctor Who appeared at 6:00 PM (6:30 PM in Newfoundland). When the series moved to Wednesdays on 21 April 1965 (a week later than the main network), the time switched to 5:00 PM (5:30 PM in Newfoundland). This meant that Doctor Who went to air an hour earlier than Toronto, which is only possible if a recording was employed. As the last 16 episodes started a week later, and the series ended a week later relative to the main network, the recording was from the previous week (a one week delay).
Episode breakdown per air date follows the CBLT Toronto transmission, accounting for the extra week delay for the Wednesday/weekday episodes with corroboration from episode summaries listed in the Halifax Chronicle-Herald.
TV listings for Station CFSN Stephenville were in Atlantic Time even though the station is in Newfoundland. Like CFLA Goose Bay, CFSN was operated by the United States Air Force and the two air bases needed to have a common clock. Goose Bay AFB was the home of the strategic bomber fleet and Ernest Harmon AFB (Stephenville) was the home of the air refueling fleet.
Legend
AT: Atlantic Time (New Brunswick, Prince Edward Island, Nova Scotia and Labrador)
NT: Newfoundland Time (Newfoundland); 30 minutes ahead of AT
Live: Microwave TV feed (no delay)
Kine: Kinescope (delayed programming)
| No | Date | Day | Time [AT/NT] | Signal Feed | Ep |
| --- | --- | --- | --- | --- | --- |
| 1 | 23 Jan 1965 | Sat | 18:00/18:30 | Live | A1 |
| 2 | 30 Jan 1965 | Sat | 18:00/18:30 | Live | A2 |
| 3 | 13 Feb 1965 | Sat | 18:00/18:30 | Live | A3 |
| 4 | 20 Feb 1965 | Sat | 18:00/18:30 | Live | A4 |
| 5 | 27 Feb 1965 | Sat | 18:00/18:30 | Live | B1 |
| 6 | 6 Mar 1965 | Sat | 18:00/18:30 | Live | B2 |
| 7 | 13 Mar 1965 | Sat | 18:00/18:30 | Live | B3 |
| 8 | 20 Mar 1965 | Sat | 18:00/18:30 | Live | B4 |
| 9 | 27 Mar 1965 | Sat | 18:00/18:30 | Live | B5 |
| 10 | 3 Apr 1965 | Sat | 18:00/18:30 | Live | B6 |
| 11 | 21 Apr 1965 | Wed | 17:00/17:30 | Kine | B7 |
| 12 | 28 Apr 1965 | Wed | 17:00/17:30 | Kine | C1 |
| 13 | 5 May 1965 | Wed | 17:00/17:30 | Kine | C2 |
| 14 | 12 May 1965 | Wed | 17:00/17:30 | Kine | D1 |
| 15 | 19 May 1965 | Wed | 17:00/17:30 | Kine | D2 |
| 16 | 26 May 1965 | Wed | 17:00/17:30 | Kine | D3 |
| 17 | 2 Jun 1965 | Wed | 17:00/17:30 | Kine | D4 |
| 18 | 9 Jun 1965 | Wed | 17:00/17:30 | Kine | D5 |
| 19 | 16 Jun 1965 | Wed | 17:00/17:30 | Kine | D6 |
| 20 | 23 Jun 1965 | Wed | 17:00/17:30 | Kine | D7 |
| 21 | 30 Jun 1965 | Wed | 17:00/17:30 | Kine | E1 |
| 22 | 5 Jul 1965 | Mon | 17:00/17:30 | Kine | E2 |
| 23 | 6 Jul 1965 | Tue | 17:00/17:30 | Kine | E3 |
| 24 | 7 Jul 1965 | Wed | 17:00/17:30 | Kine | E4 |
| 25 | 8 Jul 1965 | Thu | 17:00/17:30 | Kine | E5 |
| 26 | 9 Jul 1965 | Fri | 17:00/17:30 | Kine | E6 |
CBC stations covered by this Profile
| Station | Ch | City | Prov | # of eps | Signal Source | Ownership |
| --- | --- | --- | --- | --- | --- | --- |
| CBHT | 3 | Halifax | NS | 26 | Live/Kine | CBC |
| CJCB | 4 | Sydney | NS | 26 | Live/Kine | Private |
| CFXU | 9 | Antigonish | NS | 26? | Live/Kine | Private |
| CKCW | 2 | Moncton | NB | 26 | Live/Kine | Private |
| CHSJ | 4 | Saint John | NB | 26 | Live/Kine | Private |
| CFCY | 13 | Charlottetown | PE | 26 | Live/Kine | Private |
| CFSN | 8 | Stephenville | NL | 26 | Live | USAF |
| CBNT | 8 | St. John's | NL | 26 | Live | CBC |
| CJCN | 4 | Grand Falls | NL | 0 | Live | Private |
| CBYT | 5 | Corner Brook | NL | 26 | Live | CBC |
Regional Variations
Stations operating under Atlantic Time [AT]:

CBHT Halifax
CJCB Sydney
CKCW Moncton
CHSJ Saint John
CFCY Charlottetown
CFXU Antigonish
CFSN Stephenville

Stations operating under Newfoundland Time [NT]:

CBNT St. John's
CBYT Corner Brook

Station CJCN Grand Falls did not transmit any episodes (shared CBC/CTV transmitter)

Research and Text © Randy Howell